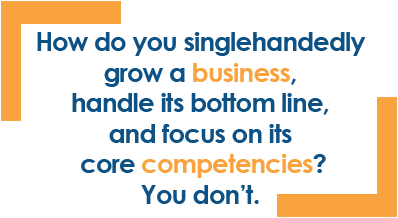 As your business transforms into a much bigger venture, it becomes necessary to have high-level financial and accounting professionals on-board to carefully guide you through this change.

But what is not necessary – and definitely not cost-effective – is investing in their in-house recruitment. With our help, you can benefit from the expertise of senior accountants and professional financial consultants without physically having them in your offices and on your payroll.
The benefits of outsourcing your accounting and financial tasks to us include:
Core Strength Focus
We assign suitable experts to take care of your accounting and financial needs – making sure to especially handle confidential matters with care – so that you can optimize your time, focus on your business, and accelerate your growth.
Healthy Management
We make sure you receive timely, accurate and relevant information that contributes to the healthy management of your company, and to your adaptability to excel in today's changing environments. In addition, we keep you on good terms with authorities and employees because we know the rules, taxation systems and laws, and we ensure that you abide by them.
Cost Efficiency
We provide you with a team of no less than 4 experts to handle everything, and in compliance with our system of work and standards, at less of the cost it would take to recruit the same team in-house. In addition, you save on: costs of managing and training additional staff; space rental to accommodate an in-house accountant; purchasing assets such as IT equipment and furniture; providing extra security and data backup; and so on.
Analysis and Guidance
We provide you with financial clarity, simply. We go beyond telling you how much money you have in the bank and submitting reports that mean little to you. Instead, we help you come up with financial statements, and then we help you analyze them thoroughly, ensuring that you are taking timely and right decisions towards the healthy management and development of the company.
Through our accounting and financial outsourcing service, we can help you with:

Bookkeeping of transactions
Reconciliation with third parties
Monthly suppliers and third-party aging reports
Monthly income statement
Analysis of performance

Preparation of payroll
Tax computation
Pay slips
Transfers

Income tax
Tax on salaries
Value added tax
Property tax

Balance sheet
Cash flow
Budgets and forecasts
Analysis and ratios